News
New website for Dussmann
published 09/21/2022
www.dussmann.de takes new brand architecture online • Focus on improved sales functions and the people behind the Dussmann brand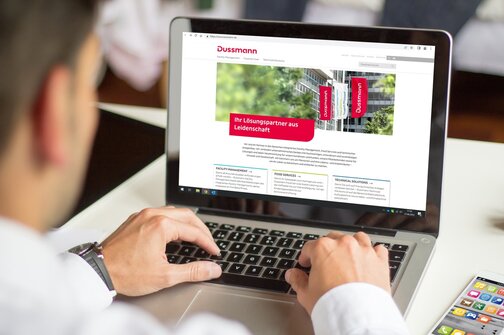 The successful international relaunch of the Dussmann brand in early June of this year is now going online as well. Starting September 20, the Dussmann website at www.dussmann.de features a sleek, modern design, optimized technology, and a fully revamped structure.

The Web relaunch means the operational service segments Dussmann Facility Management, Dussmann Food Services, and Dussmann Technical Solutions now have the same digital home. In addition to improving the visibility of the group's interconnected service portfolio, one of the key aims of the move was to highlight the Dussmann brand promise, "We care for more." This expresses what Dussmann does best and where our hearts are: "We take care of people and the places where they live and work – to make their lives richer and easier."

The website contains many additional new features. A streamlined menu structure offers more intuitive guidance for finding services, and the built-in location search feature makes it easier for users to find the right contact for them, sorted by local area and service segment. Simplified ways of getting in touch with local Dussmann employees put the people behind the services front and center now as well; a magazine-like new section called "News & Stories" also contributes there, shining a brighter spotlight on employees with high-quality content including current reports from around the company and examples of best practice.

"We're delighted that our new Dussmann brand is now also reflected in our new customer-oriented website. It is our clear statement on integrated facility management, where we are now just as strong as we are in our individual services," says Philipp Conrads, CEO of Dussmann Service Deutschland GmbH, who is responsible for the Facility Management and Food Services segments. "At the same time, it's also a strong digital sales tool."

Tino Weber, Managing Director of the Dussmann Technical Solutions division, which brings together all of the group's specialists in technical plant and systems engineering, adds: "The new website reflects the full breadth and depth of the diverse range of services Dussmann offers. At the same time, it offers space for the differences between the three areas, and we can show existing and potential customers even more clearly how we can support them with our services."

Over the next few months, the websites of the further Dussmann national affiliates will also be relaunched in the new look and feel.

When planning and implementing the website relaunch, Dussmann relied on wob AG, an owner-operated B2B agency based in Viernheim. The same agency will also work on the subsequent relaunches of the other national sites.
About Dussmann
Dussmann provides solutions born of its passion for integrated facility management, food services, and technical plant and systems engineering. In our role as part of the international Dussmann Group, a family company, we combine entrepreneurial thinking and high-quality, innovative, reliable solutions while embracing our responsibility for customers, employees, the environment, and society at large. We take care of people and the places where they live and work – to make their lives richer and easier.
With a wide range of services and years of expertise, Dussmann Facility Management encompasses the full range of integrated facility management services: building cleaning, security services, building technology, and mobility services. Dussmann Food Services offers diverse and sustainable dining concepts for children, employees, patients, and seniors, all with warm hospitality. Dussmann Technical Solutions offers a wide range of products and services in the areas of electrical engineering, refrigeration and air conditioning technology, and elevator technology, combined with expertise in industrial engineering and technical services.
With a focus on innovation, digitalization, and technology, Dussmann develops customized concepts and solutions, all with a focus on customers and their industry-specific requirements. Dussmann is the largest division of the Dussmann Group, which has nearly 65,000 employees in 21 countries, offering a full range of services having to do with people.
Your contacts at Dussmann - just contact us
More about this service area