To keep your elevators running smoothly
HEBO Aufzugstechnik GmbH is a company of Dussmann Technical Solutions. It offers the technical precision of an experienced producer, in tandem with the service expected from a global player. Our goal is to turn your vision into reality through top-notch elevator systems. We have a long history that makes us experts in the field of elevator technology. Put our years of expertise and customer-centric advising and the outstanding quality of our elevators to work for you!
Elevator technology from a single source
The company was founded in the town of Hallenberg in 1972. Right from day one, we have stood for development, design and construction, and production of elevator systems. From passenger elevators to freight elevators and dumbwaiters, we specialize in providing custom solutions. Our services range from planning to modernization and repair of your elevators and beyond, to service having to do with all aspects of elevator technology - everything from a single source
50 years of TraditionHistory – HEBO Aufzugstechnik GmbH
2022
Move to a new building in Hallenberg with our own manufacturing facility and larger office space
2020
Opening of the new office in Landshut
2018
Takeover of the operational business of ASKA GmbH
Opening of the new office in Frankfurt/Main and Heilbronn
2016
HEBO becomes part of the globally active Dussmann Group.
The Dussmann Group takes over essential parts and all employees from HEBO Industries GmbH and continues the operative business under HEBO Aufzugstechnik GmbH in Hallenberg.
Opening of the new office in Stuttgart
1999
HEBO becomes independent. The company leaves the OTIS group and is managed by the managing partner Frank Hesse under the name HEBO Industries GmbH, Aufzugs-Technologie.
1997
The HEBO plant in Hallenberg is thoroughly modernized, setting the course for the future. The HEBO sales department in Göttingen, the sister companies of OTH and OTIS GmbH are supplied.
1986
HEBO becomes a member of the OTH group of companies. This makes the company part of OTIS GmbH, the world's largest supplier of escalators and elevator systems.
1972
Foundation of the company under the name HEBO Fördertechnik. Customized elevator systems are developed, designed and manufactured at the Hallenberg plant.
The sales department is based in Göttingen. The product range includes systems in the TOP and HIGH CLASS categories.
Quality assurance through standards
ISO-certified quality
At HEBO Aufzugstechnik, quality management and environmentally conscious actions are a top priority. Our ISO 9001 certification is a logical outgrowth of our efforts to guarantee our customers the very best quality while keeping pace with current technical developments.
In addition to ensuring standardized processes, implementing individual customer requirements in compliance with industry-specific standards is an ongoing challenge, and one that HEBO Aufzugstechnik GmbH has been tackling successfully for years. We undergo regular quality checks and audits to document our quality standards on an ongoing basis.
HEBO Aufzugstechnik has obtained TÜV certification for the following areas of management:
EN ISO 9001, quality management
EN ISO 45001, occupational health and safety management
EN ISO 50001, energy management
EN ISO 14001, environmental management
Prequalified company
Since 2021, HEBO Aufzugstechnik GmbH has been prequalified for the service area 113-06 materials handling technology (elevators, escalators and passenger transportation systems), thus visibly demonstrating HEBO Aufzugstechnik GmbH's claim to quality in the trade to the outside world.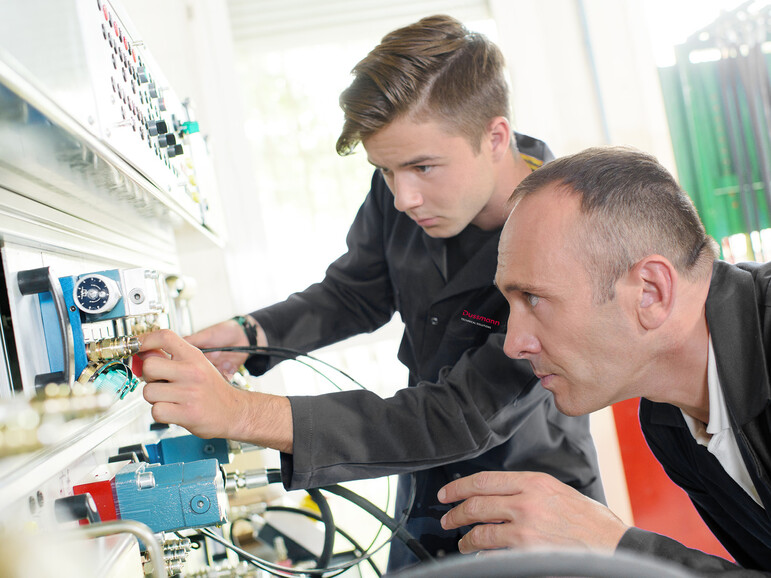 Jobs with a futureCareers at HEBO
We are always looking for fresh talent in the area of elevator technology. Don't wait! Look at our current vacancies now!
Contact directly near you
Use our location search feature to find the right point of contact near you and contact the appropriate branch location – by e-mail, phone or simply by using our contact form.
Contact us.
Do you have any questions about our offer? Call us or write to us.