News
A speedboat in a tanker
published 08/07/2023
FAS reports on innovation management at Dussmann Food Services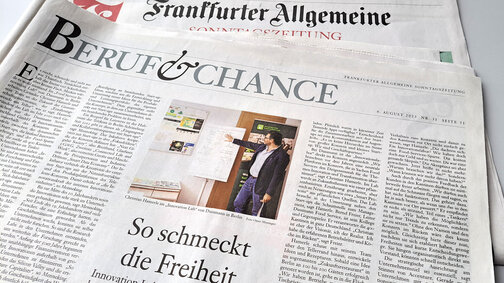 "A speedboat in a tanker": This is the symbol used by the Frankfurter Allgemeine Sonntagszeitung in its latest issue to describe the successful innovation management within the Dussmann Food Services division.
The Food Service Innovation Lab, founded in 2020 as an internal start-up, is taking on the role of innovation driver, primarily to advance the major future topic of plant-based nutrition. More than 100 innovation alliances with producers of a wide variety of future food products form the basis for new culinary creations.
"Our courage to take risks has paid off: the Food Service Innovation Lab has proven that it significantly accelerates the innovation process" comments Christian Hamerle on the reporting.
But what role does the "tanker" play now? In the daily routine of the approximately 400 company canteens managed by Dussmann Food Service, the acceptance of new dishes is just as important as their ease of preparation. What counts here is the practical test in the daily business of the company canteens.
© Interview: FAS, Frankfurt am Main. All rights reserved. Provided by Frankfurter Allgemeine Sonntagszeitung