News
The Table is Laid
published 03/18/2015
Dussmann Service catering portal makes balanced nutrition, regional food, environmental commitment and perfect service clickable for guests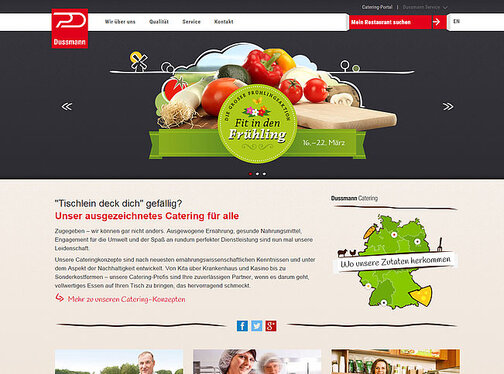 Starter: à la carte information
Dussmann Service can now communicate directly with its restaurant guests and share a wide scope of catering information online. The new catering portal at www.catering.dussmann.com provides information in German and in English about the catering concepts for the needs of each sector, from young to old, for children, students, staff, patients and seniors. There are links to the websites of cooperation partners such as the German Hotel and Catering Association (DEHOGA) or the German Network for School Catering (DNSV) as well as to the Dussmann Group newsroom and the Dussmann Service careers portal. The glossary explains over 250 terms from the world of catering and the promotion calendar gives visitors a taste of what to expect in the coming year. You will find the contact data of Dussmann catering as well as regional contact information and a link to the online ordering website for school catering.
Main Course: transparency
Visitors to the catering portal can learn how Dussmann Service maintains and ensures high quality standards. All of the Dussmann concepts have several things in common: purchasing and meal planning with a regional focus and a sustainable approach. An interactive map names suppliers in all federal states. Thorsten Greth, Catering Division Head at Dussmann Service comments: "Communication with our guests is increasingly important. It's not enough to display a meal plan in the restaurant. Diners want to know where ingredients are purchased and what the company is doing in terms of environmental and social responsibility."
For Dessert: five stars
The user can select his or her own staff restaurant in the search field "search for my restaurant". More and more Dussmann restaurants are going online where the current meal plan, opening times and local contact information are available and conference services can be booked. For every dish additives and allergens are given. Direct feedback is always welcome and diners can rate his or her catering team with up to five stars.
Dussmann Service is one of Germany's biggest caterers. In 2013, it was named Best Catering Company (staff restaurants) in a customer survey among 228 corporate decision makers by the German Institute of Service Quality (DISQ) on behalf of the magazine Markt und Mittelstand. In the same year, Dussmann Service was named Caterer of the Year 2013 in the category food concepts and interior design for the café-restaurant Ursprung – eat·drink·dream in Dussmann House, Berlin which takes a sustainable approach. In 2014, the Dussmann vegan meal range was among the finalists for the same awards.
With more than 61,000 employees in 20 countries, the Dussmann Group provides services for people, by people. The largest service division, Dussmann Service, provides catering, security, reception, cleaning and technical services as well as commercial facility management and energy management from a single source. Dresdner Kühlanlagenbau GmbH (DKA) constructs and installs all types of refrigeration and air-conditioning equipment and systems and provides subsequent services. The company division Kursana nurses and cares for 13,600 seniors. In addition, the Dussmann Group operates the media department store Dussmann das KulturKaufhaus in Berlin and in-house corporate child-care at Dussmann KulturKindergarten facilities. In 2013, the Dussmann Group generated total sales of 1.84 billion Euros making it one of the largest private multi-service providers worldwide. Further information at www.dussmanngroup.com
Your contacts at Dussmann - just contact us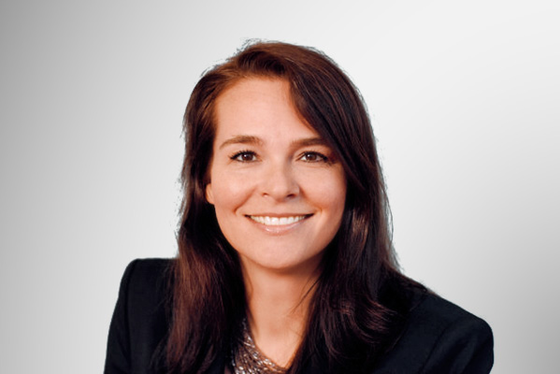 Michaela Mehls
Head of Corporate Communications and Spokeswoman